buke bullet journal specifications
A5 size

5 x 5mm dot grids

160 pages

180gsm bamboo paper
They also have 160gsm notebooks, but I went with the 180gsm as I might want to try using paint in my bullet journal set-ups this year. Due to the thickness of the paper, the journal feels slightly heavy and bulky, but that is usually the case for most bullet journal notebooks.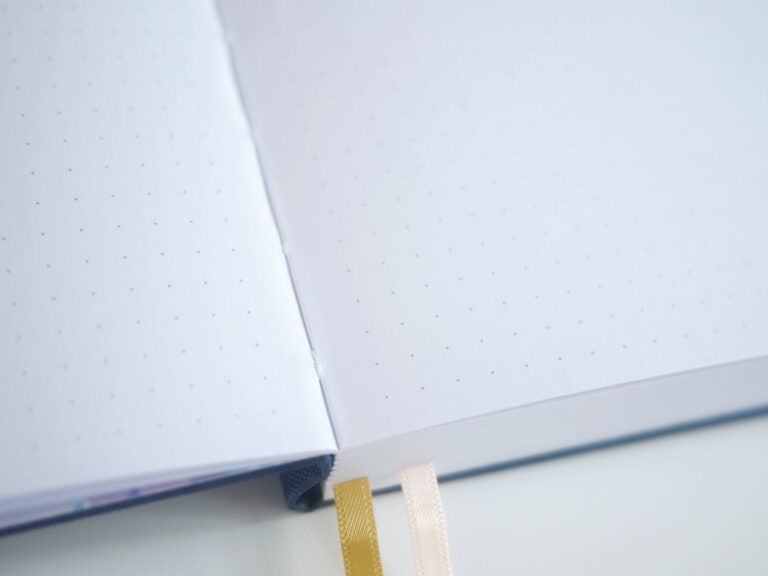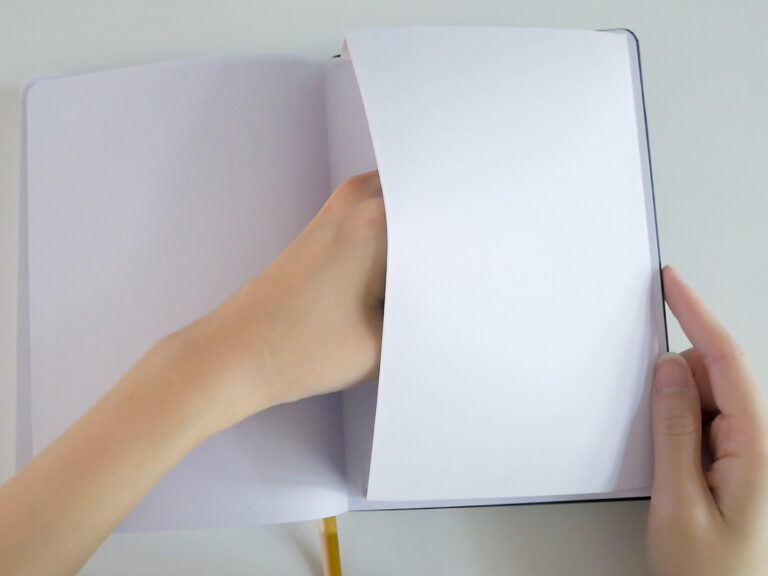 As for the dots, I like how they are faint yet visible!
It comes with two ribbon bookmarks in gold and beige, as well as a paper pocket at the end of the notebook.
BUKE bullet journal pen test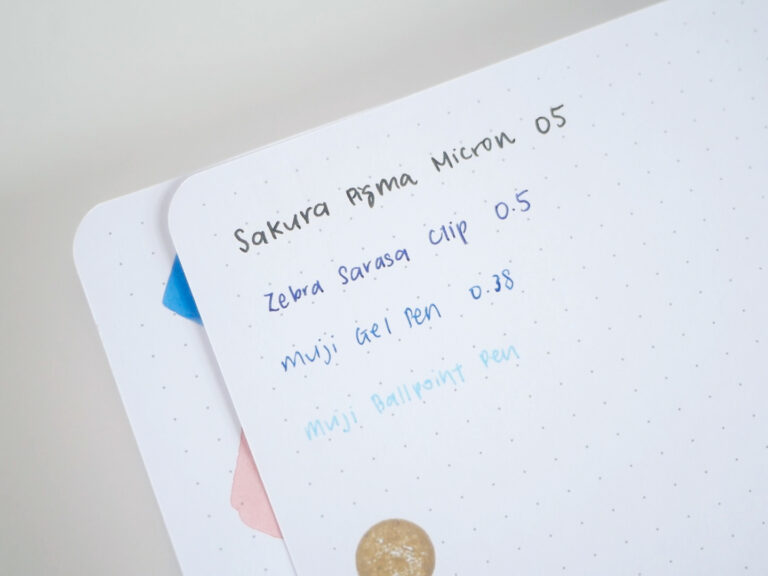 The pen test I did was not super extensive as I only tested the four pens I use most frequently for bullet journaling. These are the pens I tested:
Sakura pigma micron pen 05

Zebra sarasa clip blue pen 0.5

Muji gel pen 0.38

Muji ballpoint pen
All the pens show up nicely on the paper without bleeding or feathering. The Muji gel pen
 

take a while to dry on some other notebooks I have used but it seemed to dry sooner on this BUKE notebook, yay!
ink pad test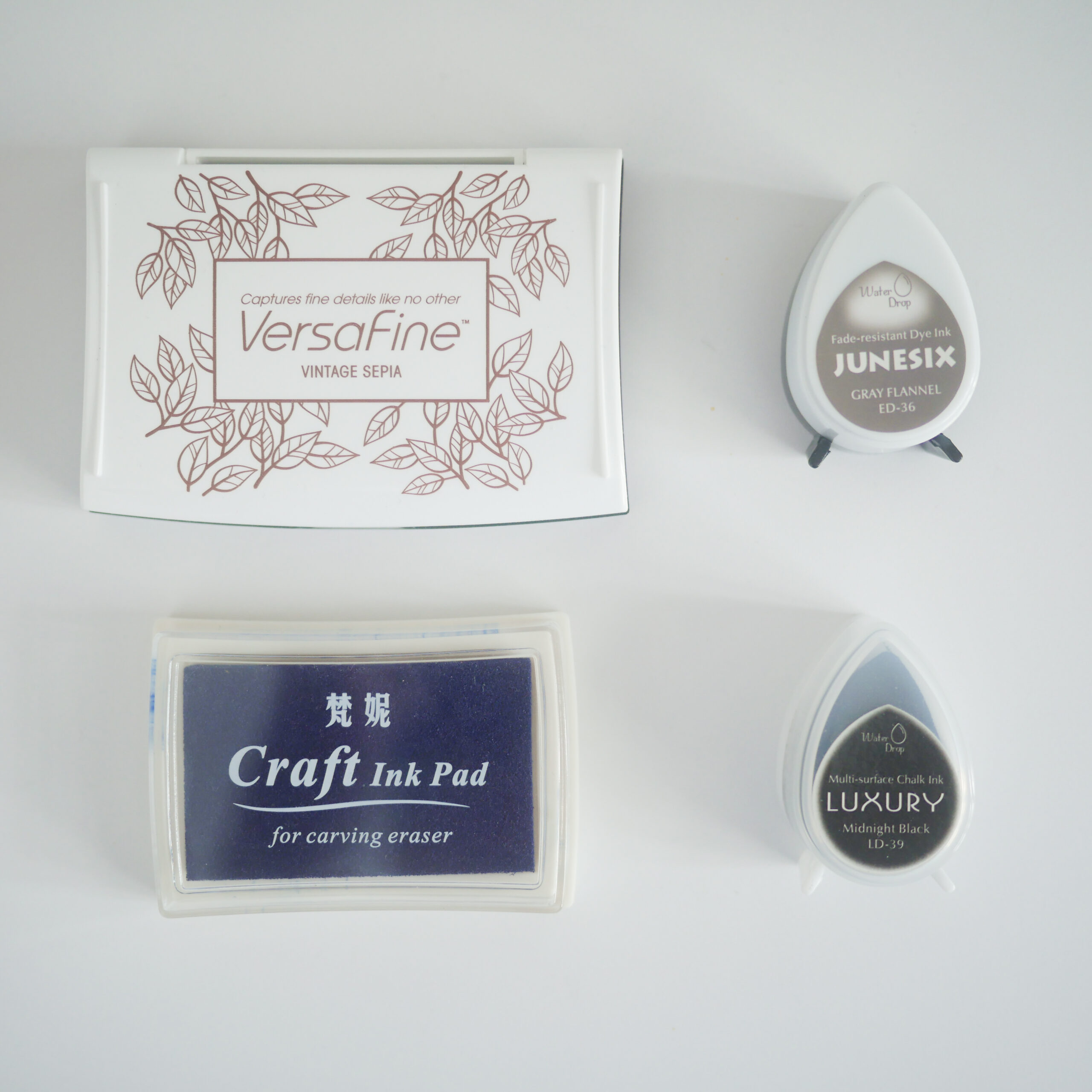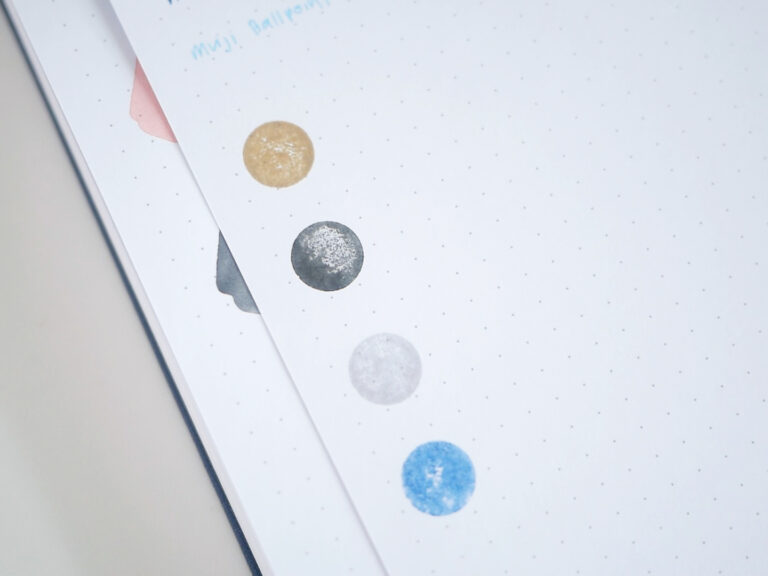 I love using stamps in my bullet journal spreads. Hence, I decided to test out a few ink pads. None of them bled through the pages. The blue ink usually takes a while to dry on my older notebook but it dried pretty quickly on the BUKE bullet journal. Fantastic!
brush pen test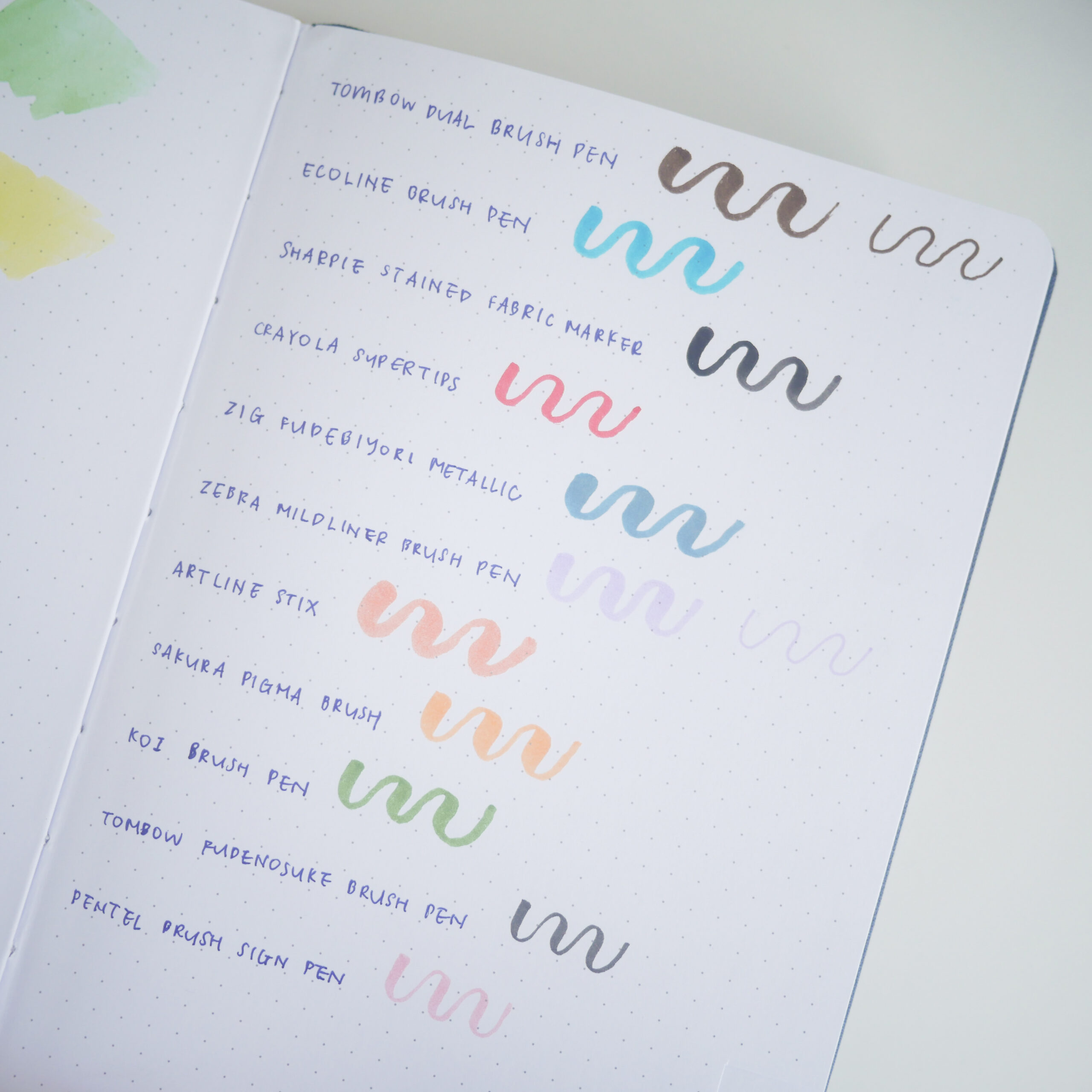 I took out one brush pen from each brand in my pen collection to test on the 180gsm BUKE notebook paper. I am happy to report that
 

all

 

of them glided on smoothly without feathering or bleeding!
Pens tested: 
Tombow Dual Brush Pen

Ecoline Brush Pen

Sharpie Stained Fabric Marker

Crayola Supertips

Zig Fudebiyori Metallic Brush Pen

Zebra Mildliner Brush Pen

Artline Stix Brush Marker

Sakura Pigma Brush

Koi Brush Pen

Tombow Fudenosuke Brush Pen

Pentel Brush Sign Pen
watercolour paint test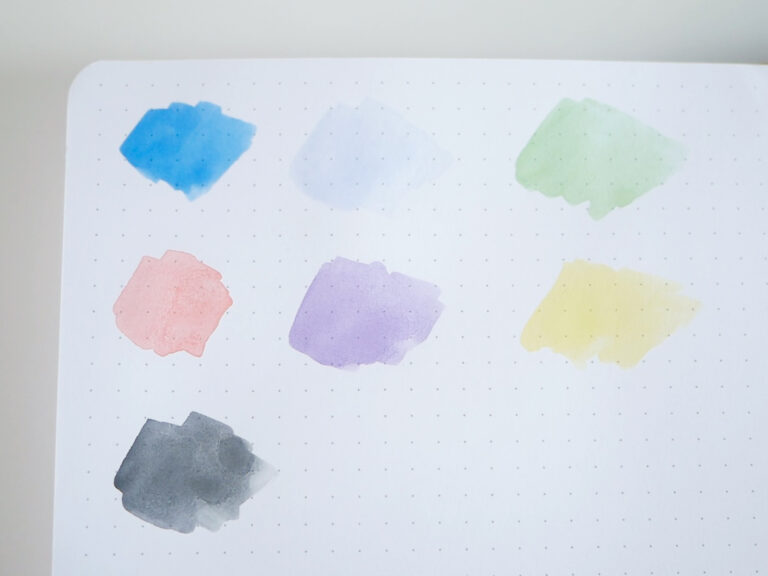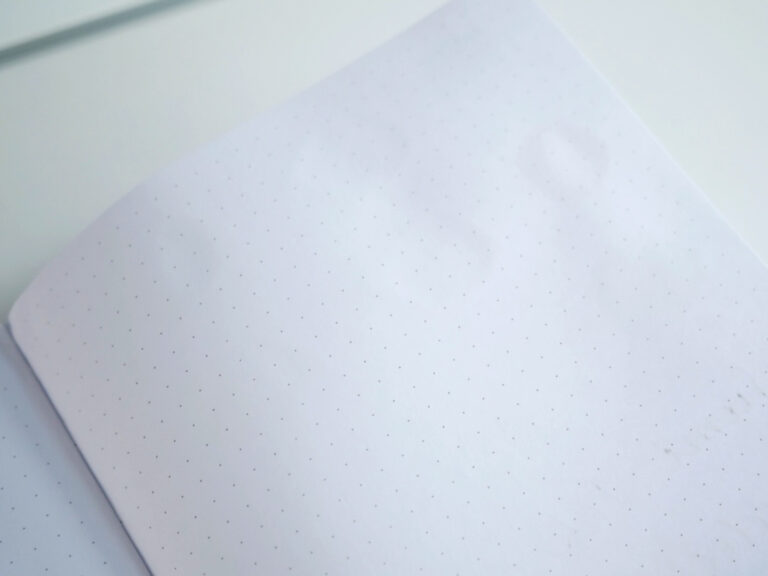 The 180gsm BUKE bullet journal paper held up against the watercolour quite nicely, as none of the colours showed up on the other side. The paper did warp slightly, and I imagine that paint that is not so watery should perform better.  
notebooks for work, notebooks for work, journal for men, grid notebook, daily journal, work notebook, a5 notebook, business notebook, moleskin journal, executive notebook, mens journal for writing, work journal, notebook hardcover, large journal, jurnal notebooks, notebook, leather journal, diary, journals for women, mens journal, lined notebook, notebook for work, white notebook, cuadernos, professional notebook, moleskin notebook, journals for men, libretas de apuntes, leather notebook journal, joirnal, jounal notebooks, dotted, journals for writing women, b5 notebook, hard cover notebook, notebook for women, paper notebook, journal for women, hardcover notebook, cute journal, note books for work, black notebook, journals bulk, grid paper notebook, aesthetic journal, leather journal for men, bullet dot journal kit, moleskin notebooks, libretas, pink journal, jornal, diary for women, travel journal for women, pocket journal, notebook bulk, libretas de apuntes bonitas, green notebook, basics notebook, notbook, notebook set, womens journal, writing book, hardback notebook, diary journal, journal leather, bible notebooks for note taking, soft cover, whitelines notebook, plain notebook, thick notebook, note book, cute notebook, small notebooks, bullet, notebooks for note taking, small notebook, pink notebook, notebooks bulk, graphing notebook, graph paper spiral notebook, leather bound journal, hardcover journal, notebook pack, note books for note taking, note taking, journals for teen girls, journal for teenage girls, bulk journals, leather journals for women, travel notebook, spiral notebook journal, notebook small, preppy notebook, math notebook, leather journals, b5, girls journal, notebook for girls, journal set, journal spiral, notes notebook, notepads for women, korean notebook, pack of notebooks, cute journals, spiral journal notebook, cute journals for women, daily notebook refillable leather journal, nurse notebook, poetry journal, little notebook, notebooks, school, aesthetic notebook, notebooks & writing pads, cute stationary, note pad, back to school supplies, college, 1917, journaling, notebooks for women, graph notebook, spiral notebook 5x7, notebook college ruled, blank notebook, grid paper, small notebooks 5x7, refillable notebook, notebook with tabs, cute notebooks for women, daily journal for women, stationery supplies, jornal, notebook for women, pen holder for notebook, large notebook, notebook organizer, kids journal, refillable journal, notebook cute, stone paper notebook, smart notebook with pen, pretty notebook, 5x7 notebook, agendas, note pads 5x7, kids notebook, a4 notebook, big notebook, recipe journal, school notebooks college ruled, nursing notebook, journal kit, toned tan sketchbook, red notebook, korean stationery, journal set for girls ages 8-12, the notebook book, cuadernos bonitos para mujeres, prayer journal for men, manifesting journal, tabbed notebook, graph notebooks, spiral bound journal, small spiral notebook 5x7, spiral graph paper notebook, the dot